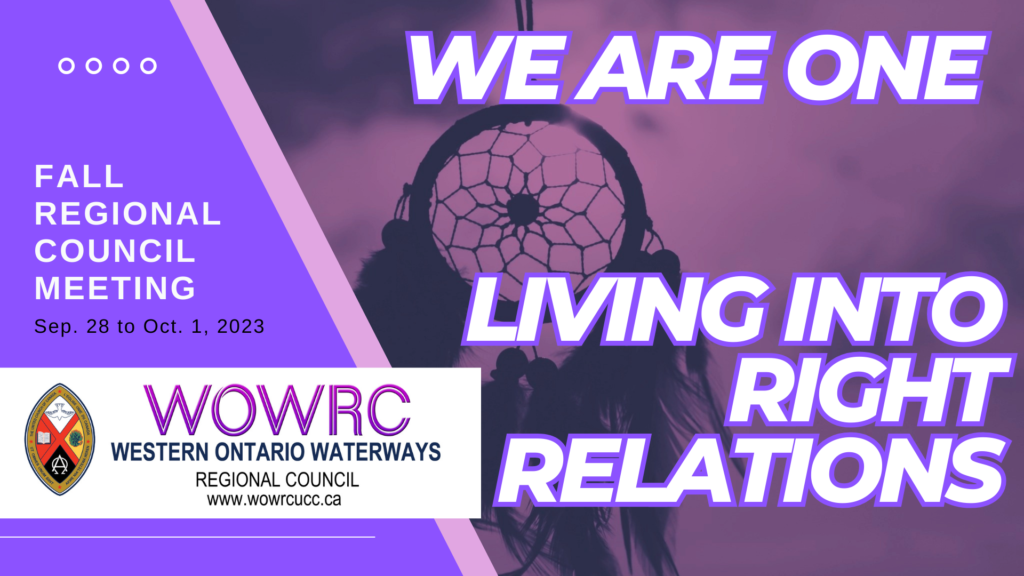 The Western Ontario Waterways Fall Regional Council begins at 4:00pm on Thursday September 28th online. 📣📣📣
Here is a link to meeting materials, Workbook, livestream, worship service and more. (Please refer to your registration confirmation email for the Zoom link):
This is the schedule for the sessions of the Regional Council Meeting:
WOW Fall Regional Meetings will be on ZOOM:
We Are One – Living into Right Relations
Thursday September 28th:
4:00pm-5:30pm, 7:00pm-9:00pm
Friday September 29th:
4:00pm-5:30pm, 7:00pm-9:00pm
Saturday September 30th:
9:00am-12:00pm Honouring the National Day for Truth and Reconciliation
Sunday October 1st:
World Wide Communion Regional Worship Service (transcript provided for use and Live-streamed from Centennial United Church – Stayner with President Jennifer Irving presiding from Zoom to the WOWRC YouTube Channel)
Celebration of Ministry Service
, Sunday, October 1, 2023, 4 PM, Cedar Hill United Church, 241 Cedar Street, Cambridge Celebrant – Whitton Daley
Looking forward to seeing you online over the next couple of days!