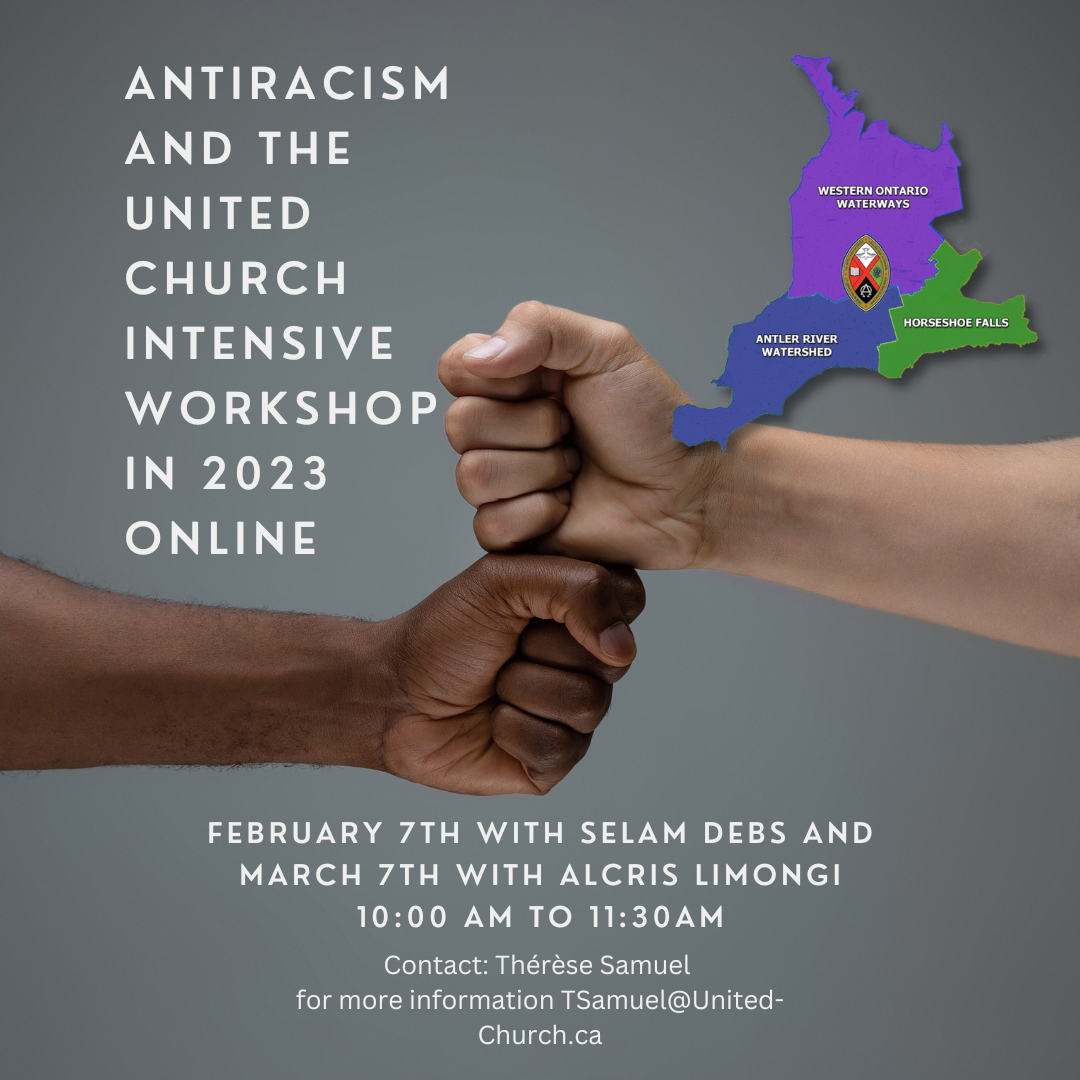 ANTIRACISM and the UNITED CHURCH Intensive Workshop in 2023 (online)
Register Now for ANTIRACISM and the UNITED CHURCHIntensive Workshop in 2023 (online)
Part 1: Antiracism Workshop with Selam Debs. Feb 7, 2023, 10:00-11:30 AM ESTPart 2: Antiracism and the UCC with Rev. Alcris Limongi March 7, 2023, 10:00 AM EST
This workshop is brought to you by Antler River Watershed, Horseshoe Falls and Western Ontario Waterways Regional Councils, and the three regions have covered all costs.
If you have any questions about this workshop or your readiness to participate in it, contact Thérèse Samuel at tsamuel@united-church.ca.
Register for Antiracism and The United Church of Canada below:
Register Now
Anti-Racism
On Sunday, June 14 The Black Clergy Network of The United Church of Canada invited the whole church to join virtually for a time of worship, prayer, and reflection to face the issues of anti-Black racism across our country and in our church. In worship we lamented, we hoped and we were reminded of the need to act against racism.
If you were not able to join live, please share in the service that was recorded.
* Please note: when the video ends, another video will begin that is not connected to the presentation.

"As we've continued to learn what it means to be people who seek justice and resist evil, we've come to understand how deeply racism is embedded in our lives as individual Christians, as Communities of Faith, and as a denomination. And just as importantly, we've come to understand how vitally we need to do the work of becoming people who are anti-racist."
A message from Rt. Rev. Dr. Richard Bott, Moderator, The United Church of Canada.
---
Resources
Here are some resources and an exercise to help get us started in taking positive action.
More Resources will be available soon.
---
 Links for Further Learning