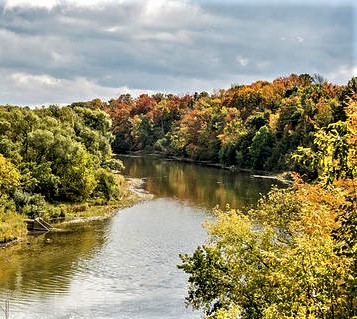 Living into Right Relations (LIRR)
This monthly bulletin offers a listing of events, actions and resources for people interested in right relations and supporting Indigenous initiatives.
It is curated by Nancy Dykstra, a first generation Canadian of Dutch descent and a member of Parkminster United Church in Waterloo. Nancy was inspired by the Truth and Reconciliation Report of 2015 to become active in working toward right relations.
National Day for Truth and Reconciliation – Thursday, September 30
Establishing this statutory holiday was Call to Action # 80 of the TRC:
We call upon the federal government, in collaboration with Aboriginal peoples, to establish, as a statutory holiday, a National Day for Truth and Reconciliation to honour Survivors, their families, and communities, and ensure that public commemoration of the history and legacy of residential schools remains a vital component of the reconciliation process.
It is up to us to figure out how we can honour the intent of the Call to Action. There have been many ideas put forward since the September email was sent so I felt it was worth putting this together to help us create a meaningful commemoration. I encourage each of us to commit to some-thing. Here are some ideas and events you might consider: 
Read or re-read the

Truth and Reconciliation Commission of Canada: Calls to Action

and find one that speaks to a passion, desire or curiosity of yours. Commit to helping to make this happen. 

Find out more about

Orange Shirt Day

, and Phyllis Jack Webstad

:

Read and learn from a book related to Residential Schools

–

Debbie Siertsema has provided an extensive list – attached. If you'd like to read with a group, let us know. We can likely hook you up with others.

Visit the Woodland Cultural Centre

with a friend or two. WCC serves to preserve and promote Indigenous history, art, language and culture. "

We welcome you to visit and learn with us as we bring the story of the Haudenosaunee people of the Eastern Woodlands to life through innovative exhibitions and programs."
Consider donating to its Save the Evidence Campaign
A short and incomplete Calendar of Events:
Description: The programming will feature short videos created by Indigenous storytellers, followed by conversations with Elders, Knowledge Keepers, Survivors, and the children of Survivors of residential schools. The videos will be supported with classroom activities for students. Throughout the week we'll share artistic and cultural performances by First Nations, Métis, and Inuit artists. There will also be a tribute to the Missing Children that never returned home from the residential schools.
Sept  29, 5:30 – 7 p.m

.

 Indigenous Children Then, Now and Tomorrow

presented by United in Learning. 

Panelists will explore how Indigenous children and families were and continue to be impacted by colonialism. They will answer a series of questions posed by moderator Springwater Hester-Meawassige, which will touch on a range of topics including Indigenous Children in Residential Schools, Sixties Scoop, Millennial Scoop, and bringing our children home. Register

here

.

Sept 29, 7 – 8:30 p.m

.

Shining Light on the Residential School Legacy

–

presented by

Toronto Urban Native Ministry (TUNM)

Click here for

 tickets

($10) which will support the Woodland Cultural Centre's

Save The Evidence Campaign

and TUNM.
Description: Join us for an evening with Sandra Campbell-Kanien'kehā:ka Wahta, Wakkwā:ho for an informational discussion on the legacy of Indian Residential Schools, Indian Day Schools, Indian Hospitals, the 60's Scoop, Millennial Scoop, Foster Care, Prisons, Jails and Mental Health Institutions.
September 30  
Other events locally not specific to Sept 30:
On now to Sept 25 All Nations Grand River Water Walk
Sept 25, 10 am to when it's finished.

Volunteers needed to get their hands dirty! 

Help plant a Food Forest

near New Hamburg with the

Crow Shield Lodge

. Contact Laura Hamilton at

laura@divestwaterloo.ca

 
| | | |
| --- | --- | --- |
| Books on Residential Schools |   |   |
| Shi-shi-eiko and Shin-Chi's Canoe | Nicola Campbell | Ages 4-8 |
| Artic Stories | Michael Kusugak | Ages 4-8 |
| Kookum's Red Shoe | Peter Eyvindson | Ages 4-8 |
| My Name is Seepeetza | Shirley Sterling | Ages 9-12 |
| Fatty Legs | Christy Jordon Fenton & Margaret Paklak-Fenton | Ages 9-12 |
| A stranger at Home | Christy Jordan-Fenton | Ages 9-12 |
| No Time to Say Good bye: Chirldren's Stories of Kuper Island Residential School | Sylvia Olsen | Ages 9-12 |
| We feel Good our here=Zhik gwaa'an, nakhwatthaiitat, qwiinzii (The Land is our Storybook) | Julie-Anne Andre & Mindy Willett | Ages 9-12 |
| As Long as the Rivers Flow | Larry Lovie | Ages 9-12 |
| Indian Horse | Richard Wagamese |   |
| Orange Shirt Day | Phyllis Wetstad |   |
| Seven Fallen Feathers  | Tanya Talaga |   |
| Dear Canada, These are my words: The Residential School Diary of Violet |Pesheens | Ruby Slipperjack |   |
| In Search of April Raintree | Beatrise Mosionier |   |
| The Train  | Jodie Callaghan |   |
| I am not a Number | Jenny Kay Dupuis |   |
| When we were Alone | David A. Robertson & Julie Flett |   |
| The Break | Katherena Vermette |   |
| Porcupines and China Dolls | Robert Arthur Alexie |   |
| The Marrow Thieves | Cherie Dimoline |   |
| When I was Eight | Cherie Jordan Fenton |   |
| Not my Girl  | Cherie Jordan Fenton |   |
| Stolen words | Melanie Florence |   |
| Phyllis' Orange Shirt Day | Phyllis Webstad |   |
| The Land is ours storybook | Julie-Anne Andre & Mindy Willett |   |
| When we play our Drums, They Sing!  | Lucy & Lola -Richard Van Camp & Monique Gray Smith |   |
| Sugar Falls: A Residential School Story | David A. Robertson |   |
| Five Little Indians | Michelle Good |   |
| One Story, One Song | Richard Wagamese |   |
| The Red Files | Lisa Bird-Wilson |   |
| The Education of Augie Merasty | Joseph Auguste Merasty, & David Carpenter |   |
| Speaking our Truth | Monique Gray Smith |   |
| They Called me Number One | Bev Sellers |   |
| I lost my Talk | Rita Joe |   |
| Moon of the Crusted Snow | Waubgeshing Rice |   |
| I'm Finding my talk  | Rebecca Thomas |   |
| Indigenous Relations: Insights, Tips & Suggestions to make Reconcilation a Reality | Bob Joseph |   |
| 21 Things you may not Know about The Indian Act | Bob Joseph |   |
| Embers: Meditations  | Richard Wagamese |   |
| Braiding Sweetgrass: Indigenous Wisdome | Robin Wall Kimmer |   |
| Shi-shi-eiko and Shin-Chi's Canoe |   |   |
| The Truth about Stories (CBC Massey Lectures) | Thomas King |   |
| The Other Side of the River (From Church Pew to Sweat Lodge) | Alf Dumont |   |
| Medicine Walk | Richard Wagamese |   |
| Broken Circle: The Dark Legacy of Indian Residential Schools | Theodore Fontaine |   |
| Norway House: Recollections, Adventures, Insights | Janet Holland |   |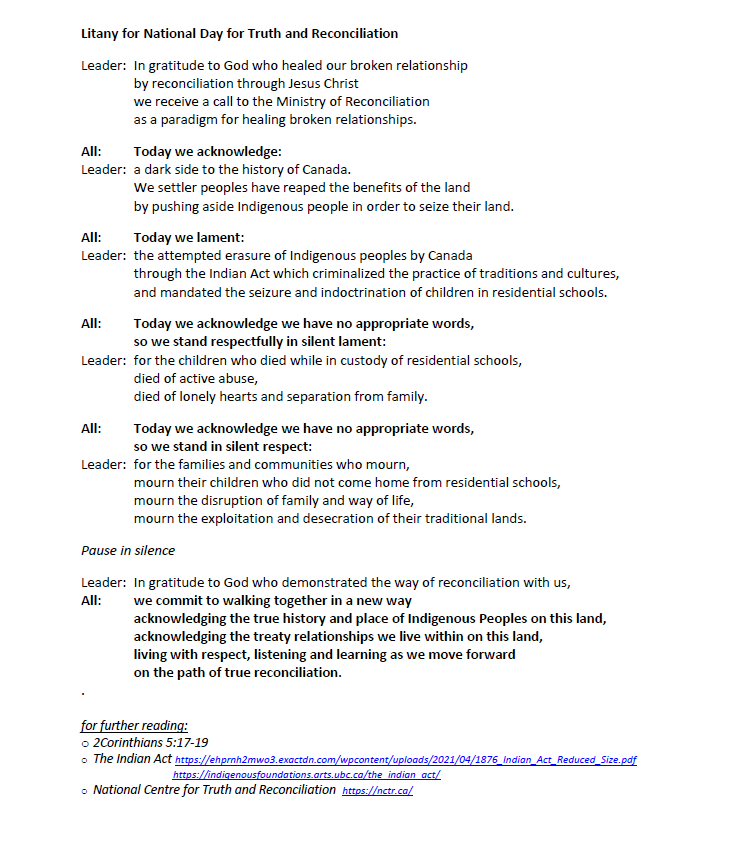 PDF Version: Litany for National Day of Truth and Reconciliation
Posted with permission from author Ron Flaming.
---
These resources have been curated by Nancy Dykstra with many thanks.