God's Abundance
October 21, 2022

-

October 22, 2022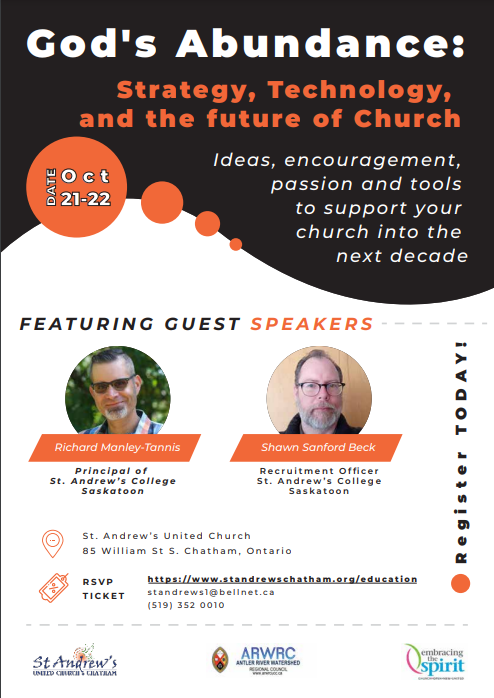 Equip Yourself for the Future of Church
St. Andrew's United Church in Chatham is excited to invite all clergy, laity, and church leadership for a time of ecumenical learning, renewal, social connection, visioning and technology. God's Abundance: Strategy, Technology, and the future of Church will take place on Friday, October 21 and Saturday, Oct 22.
You will hear and share stories, explore the Appreciative Inquiry process, celebrate the best from your past and see the places and times where you thrive. You will reconnect with friends and meet wonderful new people. You will dig into how Social Media holds a rich harvest of Evangelism for those who seek it. You will work with neighbours and strangers to renew and refresh your relationship with worship. You will discuss and learn how technology in worship is revolutionizing relationships and communications. You will explore the close ties between ecology and theology.
Don't come alone! From the beginning, as Christians disciples we were sent out in pairs to hear stories and to share the Good News. Each church or organization is recommended to send 4 attendees if possible. We are meant to work together. Who are the members of your team of four?
Keynote speakers are Richard Manley-Tanis and Shawn Sanford Beck from St. Andrew's College in Saskatoon, more speakers and seminar leaders will be announced soon.
The Christian Resource Centre will be present with many resources to fill your bookshelves, your spirit and your mind.
Mark your calendar for October 21 and 22 in downtown Chatham. Prices range from $20 to $90 per person( including meals) depending on how which seminars you wish to attend. Individuals and churches who wish to volunteer during the event are welcome, and will be thanked with discounts on ticket prices. Contact Greg Simpson at pastorgreg18@gmail.com if you have any questions.
Visit our website at https://www.standrewschatham.org/education for more information.
Registration is now open, sign up today!