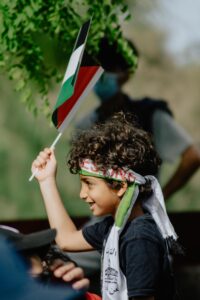 On July 23rd, the Israeli military shot 17-year old Mohammad Munir Mohammad Tamimi(opens in a new tab) in the back. He died after hours of surgery. On July 28th, Israeli soldiers shot and killed 11-year old Mohammad Mo'ayyad Bahjat Abu Sara(opens in a new tab) while he was sitting in his father's car.

In the morning of July 29, the main offices of Defense for Children International-Palestine (DCIP), a United Church of Canada partner based in Ramallah, was raided by Israeli forces. Computers and records were confiscated, including documents pertaining to legal services DCIP provides to Palestinian children.
"This is part of growing attacks against human rights defenders in Palestine and Israel by Israeli authorities," says DCIP.
DCIP investigates and documents witness testimonies, and issues reports of human rights violations against children. Under international law, intentional lethal force is justified only where a direct threat to life or of serious injury is present. Evidence collected by DCIP suggests Israeli forces use lethal force against Palestinian children in circumstances that amount to extrajudicial or willful killings.
The United Church of Canada has written to Minister of Foreign Affairs The Hon. Marc Garneau calling on him to take action to protect Palestinian children and human rights defenders in Palestine and Israel.
The letter calls on Canada to:
issue an immediate statement condemning the extrajudicial killing of Palestinian children, and of Israel's practice of detaining and prosecuting Palestinian children in military courts in violation of international law
appoint a Special Envoy to monitor and report on the human rights situation of Palestinian children in occupied Palestinian territories
hold Israeli military authorities accountable to their obligations under international human rights law
Support Palestinian children, and Palestinian and Israeli human rights defenders.
Take Action
Write, call, and tweet Minister Marc Garneau. See the sample e-mail.
Pray for Palestinians and Israelis working for a just peace and an end to the occupation.
For More Information
https://united-church.ca/social-action/act-now/say-no-extrajudicial-killing-palestinian-children#downloads
Photo credit: Latrach Med Jamil via Unsplash